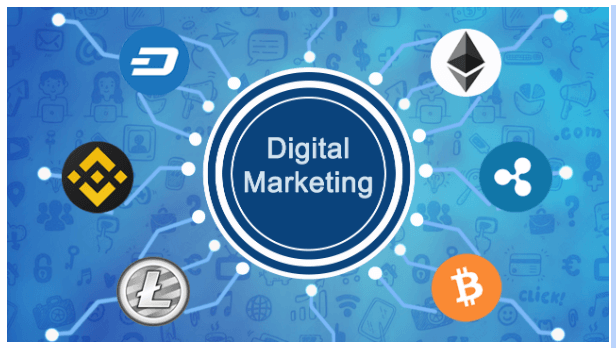 Cryptocurrency is a virtual currency, giving control to the customers in securing their transactions in a blockchain network. Blockchain will have significant influence over digital marketing in the future, as the customers of these digital currencies are increasing day by day. Due to the decentralized nature of cryptocurrency, double spending seems to be an almost impossible thing. In this article, we will see six major impacts of a cryptocurrency over digital marketing.
Cryptocurrency
Let's first talk about cryptocurrency before going further. Cryptocurrency is a digital currency, as said above. Cryptocurrency gives control to its customers to make their transactions secure digitally and without involving any third party. The world saw the first-ever cryptocurrency, Bitcoin, in the year 2009. According to blockchain analysis, more than 1500 cryptocurrencies have been launched and are currently operating in the market. Blockchain is the backbone technology behind cryptocurrency, which enhances its security and privacy features. It is a chain of immutable blocks that are stored in the blockchain network and any change in these blocks will be reflected millions of computers in the blockchain network.
Create your own virtual NFT gallery in the metaverse in just a few clicks. Share it with anyone, anywhere, all for free.
Digital Marketing
Digital Marketing came into existence in the year 2009. It is the most recognized technique used by companies to sell products and bring awareness to them. Digital marketing becomes an essential tool to market products. Digital marketing consists of online marketing strategies like brand promotions on social media, email marketing, social bookmarking, infographics, blogging etc.
Impacts Of Cryptocurrency Over Digital Marketing
1 Cryptocurrency will eliminate middlemen
Elimination of mediators between the two parties will be the most critical influence of cryptocurrency over digital marketing. These middlemen can be big tech giants such as facebook, google, amazon, and so on. Today, we need to rely on these third parties to enable our transactions. With the elimination of these data companies, the expense required to do transactions will be considerably lowered.
2 Customer Data Will Be Secure
The next significant influence over digital marketing will be securing the customers' data from hackers. Companies like Facebook, Google and Amazon collect data and sell them to advertising companies, which is the major problem privacy problem world is facing today.
The advertising companies need customers data to understand the purchasing behaviour of the customers so that they earn the most profit from advertisements. Encrypting the data and storing it in a decentralized platform will make it difficult for these companies to collect customer's data.
3 More Empowerment To The Customers
With the dramatic increase in the use of cryptocurrency, advertising and digital marketing companies will be forced to pay money to customers rather than data companies itself. This will significantly empower the customers as they will decide who is going to serve them. The use of cryptocurrency will save customers from marketing scams and frauds.
4 Cryptocurrency Will Greatly Impact Social Media
Social media is one of the most critical aspects of the online world. More than 80% of the population is active on social media like facebook, twitter, LinkedIn worldwide. Advertising and digital marketing companies make use of these social media to bring awareness about their products to the masses. Here also, cryptocurrency will force digital marketing companies to buy data directly from customers, rather than the third party.
5 More Trust From Customers
In the future, cryptocurrencies will make customer relationships with businesses healthy. It will help customers to build trust with brands. So, the companies that will embrace blockchain technology will surely be going to get benefits in the future.
6 Cut Digital Marketing Expenses
Undoubtedly, digital marketing companies will also benefit a lot from cryptocurrency and blockchain technology. The digital marketing companies have to pay a lot of money to google and social media platforms like facebook, twitter, Linkedin etc. to run their ads. When digital marketing strategies combine with blockchain, it will reduce the cost of running advertisements, as they do not have to rely on third parties. Companies which have less budget and don't want to waste their money on paid marketing will get the most benefit.
Final Words
Blockchain and cryptocurrency came into existence in the year 2009, when Satoshi Nakamoto invented the first digital coin called Bitcoin. There are many a crypto blog, providing details on blockchain technology. In this article, we went through six major impacts of a cryptocurrency over digital marketing. Cryptocurrency and blockchain technology will be going to impact digital marketing and their strategies to bring brand awareness and market their products. With the emergence of blockchain, the advertising companies will not be able to collect data from the third parties like google, facebook, twitter etc. Blockchain will help these companies to communicate with the customers directly and know better about their purchasing behaviour. We have also seen that digital marketing companies pay a lot of money to third parties for paid ads. Finally, it can be said that both advertising companies and customers will be satisfied when blockchain and cryptocurrency will merge with digital marketing strategies.
Author Bio
Hi, I am Sujit. I am a passionate blogger and crypto admirer. I work for Cryptoknowmics which is known for the best Top cryptocurrency events listing and latest airdrops. I like to find and share new information across the web. You can follow me on Twitter and Linkedin too.