Every year comes with the promise of a fresh start, new opportunities and new horizons to explore. 2020 was a chaotic year to say the least, and society as we know it has changed. 
This calls for a fresh new look at digital marketing and for a serious, skeptical look at our current marketing strategies. As we trudge through this new, equally uncertain year, marketers and small business owners need to take a proactive, hands-on approach. 
But the new year doesn't have to be an enigma. In this blog post, we'll highlight some key strategies to keep your digital marketing efforts in 2021 clear and productive.
Facebook, Twitter, Instagram, the old guard of social media are no longer enough to keep your business afloat. In 2021, you need to explore new channels as well as new forms of advertising in already dominant social media platforms (like Instagram reels). 
TikTok 
Now you might be wondering why we're discussing a social media channel known popularly for dance compilations and lip sync videos in a blog post about digital marketing. But, what you might not know is how much popularity TikTok has managed to rack up in the past few years. 
And unlike Facebook and Instagram, the platform isn't saturated with brands looking for a slice of the social media marketing pie… yet. 
With high engagement rates (29%) and low market competition with only 4% of U.S. marketers using the app, now is the best time to dive headfirst into TikTok.
Did I mention it's the most downloaded app of 2020? The app has massive business potential, but you'll need to learn how to leverage it to your advantage.
Here's what you need to do to make the most out of TikTok marketing in 2021: 
Download the app and keep track of the latest trends. You want to jump in and be part of these trends by making your videos. 

Use the Explore and FYP (For You Page) to find trending content that is also relevant to your niche. This will help you create videos that are at home with your brand.

Create short form videos that aim to educate, entertain or do both. 

Be authentic and spontaneous. There's a place for polished, long-form video content and it's not at Tiktok. Use the platform to flex your identity and brand's personality. 
Instagram Reels
With Tiktok setting the stage for short, casual video content, Instagram followed suit by creating Instagram Reels. Instagram Reels follow the same format as Tiktok videos. The best part? Your Reels can be shared on Tiktok and vice versa. That's double the value you're getting from your Tiktok videos.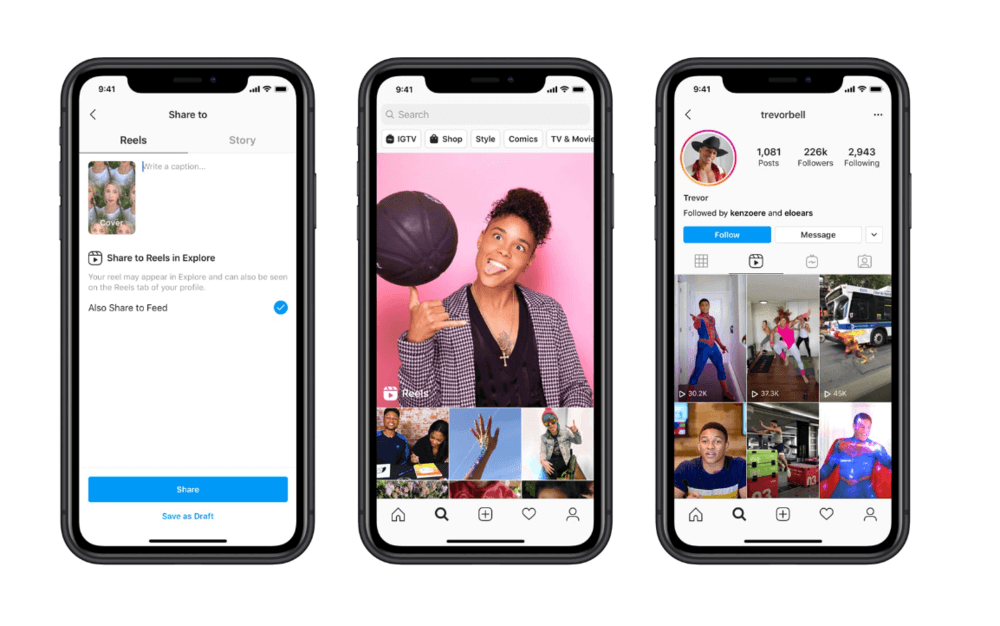 Organic search for Instagram 
The conversation around keywords rarely pops up when talking about Instagram. Traditionally it's been all about hashtags, locations and usernames. These key factors allow users to find their preferred content and content creators. 
Now you can include keywords into the mix. In other words, you can use keywords to influence organic searches and reliably get more visitors to your page via search. 
Instagram keyword searches will primarily focus on "general interest topics" within Instagram's guidelines. So, instead of long-tail keywords that perform well on search engines, focus on buzzwords in your niche. For example, use a generic keyword like 'exercise routine' instead of 'easy home workouts for beginners'. 
Social media shopping
Shoppable posts have finally hit the scene, allowing people stuck at home because of the pandemic to shop with great ease. Shoppable posts end the need for users to click on your website, browse your website's catalog and buy. 
Instead, they can directly buy a handbag, shirt or face serum directly by interacting with the Facebook post they first saw it on. Brands have begun flocking to this trend as there's no shortage of social media users browsing their newsfeeds at any moment. Just to give you a better idea, in 2020, users spent an average of about 2.5 hours on social media. 
Here's how you can make shoppable posts work for you: 
Add product tags where applicable to make posts shoppable.

Flesh out your Facebook store with products, descriptions, and product tags.

Treat each social media store as a fully-functioning online store for one-click purchases and checkouts.

Create a posting schedule to keep shoppable posts flowing and sales coming in. With an application like PosterMyWall, creating and

scheduling social media posts

becomes super easy. Simply link your social accounts, create your designs for each platform, and start scheduling posts!
Small business marketing in 2021
The global economy has been in perilous footing throughout 2020, but despite that, things are looking up for online spending. In fact, more people want to shop now than last year, and we saw a 30.1% increase in online spending in 2020. 
That's huge! Here's how your small business can thrive in 2021: 
Work with freelancers. There are more people living the

freelancer life now in 2021

than ever before. With offices closing down and lockdowns creating fluctuations in the workplace, working remotely is the way to go, as it helps you save overhead costs of maintaining an office building. Use these saved resources to improve your marketing campaign. 

Digital pay is the way. Societies progressively lean toward cashless across the globe. Make digital payment easy with options like Apple Pay, Venmo, PayPal, Google Pay, and Square.

Think about sustainability. Being conscious about the environment is no longer just a trend but a necessity. And this is a sentiment that carries

over to buying trends as well

. Show that you care not

just

by talking about sustainability, but by enforcing it in your brand culture. Practices like carbon-neutral shipping options, minimizing plastic during production, using green energy for manufacturing will give many buyers good reasons to become loyal to your brand. 
Make use of augmented reality
Augmented reality (AR) isn't an optimistic futurist's dream, it's happening now! AR allows you to alter the world as you see with objects and details of your own interest. 
Shopping online for a sofa? Insert it in your living room with the magic of AR. Browse through different shapes and colors to see what sofa fits well with your living room's theme. 
Many brands and applications have AR as an integral part of their operations. Pokemon Go, L'oreal's Makeup App, and the Ikea Mobile App and others are providing new ways to experience play, shopping and interacting with the world in exciting new ways. 
IDTechEx predicts VR and AR technology to reach a market value of $30 billion cumulatively. 
How will you bring your product into their homes? Find a way, and you'll get a slice of that multi-billion dollar pie. Spoiler: it tastes good.
Prioritize personalization in email campaigns 
Personalized marketing has been a key trend in 2020, and the same holds true, going forward in 2021. Why? Streamlined buyer journeys should be your primary focus. 
An email is not a simple message with a discount coupon and a short text blurb. It's a direct communication line between you and your customers. Personalized emails are a chance for you to provide a comprehensive user experience to someone who on their part will know exactly what they want when they visit your brick and mortar store or online shop. 
88% of consumers expect their favorite brands to accelerate digital business functioning due to the pandemic, according to Salesforce.
A greater need for personalization
As people adopt a socially distanced life, they don't want to compromise their buying habits and behaviors. So, if your brand isn't digitally optimized, chances are they'll shop elsewhere because they want an enjoyable experience.
Spending is up, online engagement is skyrocketing, and companies need to rise to the demand to reach customers on their level. How can you make it personal?
Email segmentation 
Email segmentation is vital if you want your email newsletters to be taken seriously. 
There is no one size fits all email. Instead you want to take into account spending habits, locales, and age when creating email segments. 
Segmented email lists built on personalization by telling specific demographics in your broader audience that you've got hand-picked content for them. 
Treat your email campaigns as independent sales funnels by fleshing them out with high-quality design elements like compelling imagery, infographics, and easy-to-read copy.
You can easily do this with our free email campaigns tool. Simply create a campaign, customize the email banner, import your mailing list, test out and send the campaign.
From there, you're ready to reach your audience in an intimate, personalized way that concurrently fosters connection and sales.
The future is yours
We've covered some of the trends which we believe will shape digital marketing in the coming months. It's time to update your marketing playbook with the latest strategies and tools at your disposal. We're in a complex new world where every news can spell new possibilities. 
While 2020 wasn't the best year for us, we all find ourselves in 2021 wiser, more prepared, a little weary, but altogether tougher and smarter.
With all kinds of changes and strange events happening, you might miss some opportunities but that's okay. Keep swinging the bat because there's nothing like the crack of a home run to bring new momentum and growth to your business. 
Now get out there and make it happen, because 2021 is yours!