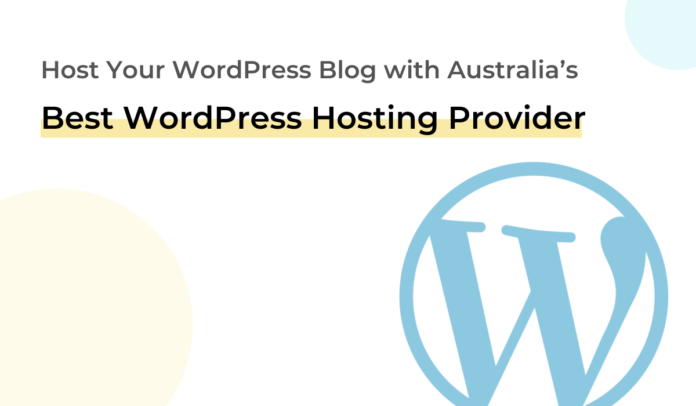 For your information, Australia has a technologically advanced market. The country's internet penetration is 85.1% which is quite high. Along with this, one of the most impressive things is that WordPress is the leading technology for website building in Australia having a market share of 72.24%. There are around Almost 170,000 registered domains in Australia that are based on WordPress. 
Additionally, Australia ranks as fourth largest user group of WordPress.com. So, from all these stats we can say that the CMS is quite popular in Australia. As a result, you won't be surprised that some of their biggest websites run on the platform such as CSIRO Blog, Herald Sun, the Australian, The Daily Telegraph, SitePoint and Digital Photography School. These are just few as it is not possible to mention all of them here. 
Read more: PSD design to WordPress conversion guide for beginners
You might have now got an idea that WordPress is the most used platform in Australia and so, you too might have thought of developing your website in WordPress. If you are building WordPress website for your business and income, there are two key things that should be considered to get the best performance. One is expert WordPress help for updates, fixes and improvements and the other is a quality WordPress hosting Australia solution.
You will get the servers from your hosting company (basically computers for hosting websites) that will allow people to view your website.
The market is overloaded with so many web hosting companies, that it becomes really difficult to understand the differences between them and exactly which one you should pick. If you select the wrong WordPress hosting, you risk a slow website, frequent downtime or frustrating support.
In this article, you will learn about how to select the best Australian WordPress hosting company for your website easily.
Tips to Select the best WordPress Hosting
Customer Support Quality
What happens when something goes wrong on your website? You need support, right? You can't judge a hosting company for its support before you become their customer.
Read more: WordPress safety guide for SEOs and Developers
While selecting a hosting provider for WordPress, reading their online reviews is a good idea. You will get an idea by contacting them and know how they treat you as a prospective customer. Several hosting companies have 24/7 email support, but it is important to know if they are quick in answering your questions and issues.
I have already researched on this for you. I have been in contact with all the recommended hosting companies support staff and found a positive experience with short wait times with one of them. This company also has got a positive feedback from several customers. You get top quality of support from them and this is one of the top reasons why we recommend them.
Hosting Location
The location of your website hosting matters a lot. When you select a local Australian hosting company rather than hosting off-shore it helps to decrease any delay in your website load times for Australian visitors. So, don't increase your WordPress website speed with off shore hosting companies. The hosting provider recommended offers sever locations in UK, USA, India, Australia, Canada and Singapore.
Read more: Top 8 Best Killer Tips and Tricks to Remember While Writing on WordPress Blogs
Backup and Recovery
If your complete business is based online, your website might get crashed due to online threats and it will be needed to be recovered. If your hosting company is good and care for its customers, the team will take backups of your account for disaster recovery. The frequency and accessibility of the backups are will vary. With some hosting companies you won't get an access and will charge you to restore a backup! 
Hosting Performance
In the above point, I have already mentioned about website speed when talking about hosting location. The performance of your server is important for your conversions. I have an experience of several hosting companies and have found that very few offer the best performance. 
Downtime is another part of performance. Remember no hosting company will give you 100% uptime. All big websites such as Facebook, Netflix and the Wall Street Journal have faced downtime in the last 12 months. The point to note here is the way hosting companies communicate with their clients for fixing the speed of websites.
Now, you might have got an idea about selecting the best WordPress hosting provider. But after having done my research and experiencing different companies, I have found that MilesWeb is one of the best WordPress hosting providers of Australia.
MilesWeb Introduction
Founded in 2012, MilesWeb is one of the great performers in the web hosting industry. MilesWeb has been recognized as for their customer support service by HostAdvice. 
Read more: 3 Reasons for Using WordPress for Your Blog
They offer a complete range of web hosting services such as shared, VPS, dedicated, reseller hosting Australia, managed WordPress and cloud hosting to best suit any website.
WordPress Hosting Plans
Features of MilesWeb WordPress Hosting
Fully Managed WordPress

Free WordPress Migration

Built for Performance

Free Domain

Automatic WordPress Updates

Fast SSD Storage

Free SSL Security

WordPress Preconfigured

Fast Provisioning

Secure Email

Datacenter Choice
Technical Features of MilesWeb WordPress Hosting
Cloudflare Railgun

HTTPS By Default

GZIP/Brotli Compression

SFTP Access

WP-CLI

Dedicated WordPress Support

Daily Backups

CDN

Cloning

Server-side Optimizations

Caching
Apart from these features, you get 99.95% uptime, 24/7 customer support and 30 days money back guarantee.
Conclusion
You can see that MilesWeb WordPress hosting all the significant features required hosting your WordPress website. I would recommend you to go with them as I have always experienced a positive feedback from them.