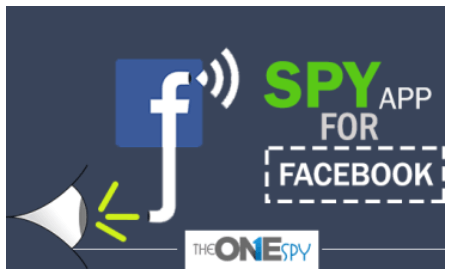 Spy on girlfriend Facebook account without touching her smartphone is not less than comedy. However, once you have installed cell phone spy app on the target device such as cellphone, tablets, and pads, then you don't need to have access to the target device. It means installations of TheOneSpy monitoring app on the target device is mandatory, otherwise, you are wasting your time if you have heard a rumor and you are trying to make it happen.
It is not possible till date that you can spy on someone's Facebook account, on the other hands hacking someone's account is something else in which hackers send a malicious or fake link to the target person and then steal their credentials and the account remain no more the property of the victim. But in the modern world, a mighty social messaging app Facebook has made useful privacy innovations and makes it possible for you to hack someone's Facebook account. Moreover, when it comes spying on someone's account I make sure you cannot do it without having the physical access on the target device but having access for at least once in particular.
Read more: 10 BEST WAYS TO DRIVE SALES ON SOCIAL MEDIA
Do you want to spy on your girlfriend's Facebook account?
Then you just need to find out the best cell phone spy app that enables you to discover all the activities happen on the target device messenger. Furthermore, it also provides power to stay hidden while spying on the target cell phone activities such as Facebook activities. Moreover, a user can use it for reading text messages, conversations, media as photos and videos shared by the target user and other activities you are looking for.
Read more:  10 Best Ways to Drive Sales on Social Media
Additionally, a user can get to know the girlfriend's Facebook activities with a complete time stamp and the most importantly the installation process of Facebook spy app needs to be user –friendly for non –tech-savvy users. The spy app for cell phone needs to be efficient and accurate when comer to get hands on the monitored Facebook results. Therefore, you need to have best cell phone spy app that provide you Facebook monitoring to the fullest.
Install cell phone tracking app on girlfriend's phone
All you need to do is to get the subscription on the web for mobile phone monitoring software and in response; you will get an email that provides you a passcode and ID. Then you need to have physical access on your loved one cell phone and install the cell phone surveillance app to monitor the Facebook account. Furthermore, once you have installed the mobile phone surveillance software on the target device and then activate it. When you are going to activate it, then you will get a message. Either you want to use it in a sneaky way or not. Moreover, use the credentials and get access to the target online control panel of cell phone spy software. Then further you need to visit the monitoring tools that allow you to spy on your girlfriend's cell phone device. Now you can use the phone spy software tools to spy on your girlfriend's Facebook account.
This will really help you out to view the Facebook logs running on the girlfriend's cell phone such as text messages logs of Facebook, chat conversations, shared media on Facebook such as photos in terms of selfies and videos and Facebook logs. This will really help you out to come to the point either your loved is loyal with you are not and to whom they have made conversations using the Facebook social messaging app. You can prevent the element of cheating if you have some reservations about your partner's loyalty using Facebook spy software.
Facebook Live screen recording
You can do a Facebook live screen recording and can make short videos of your girlfriend's phone screen and the recorded videos will go the web portal. You can get access to the online control panel and can view all the videos and get to know the detail information of your teen Facebook account.
Keylogger
You can get all the keystrokes applied to the target cell phone and installed Facebook messengers such as password keystrokes, messenger keystrokes, and messages keystrokes. Use the keystrokes and login to the girlfriend's Facebook account and what else you want.
Read more:  Six Major Impacts of Cryptocurrency Over Digital Marketing
Screenshots
You can remotely capture screenshots of all the activities happen on the Facebook account used by your loved one with the complete time stamp.
Conclusion:
You can install the mobile phone spy app on your girlfriend once successfully, and then you can spy on your girlfriend's Facebook account without touching her smartphone.