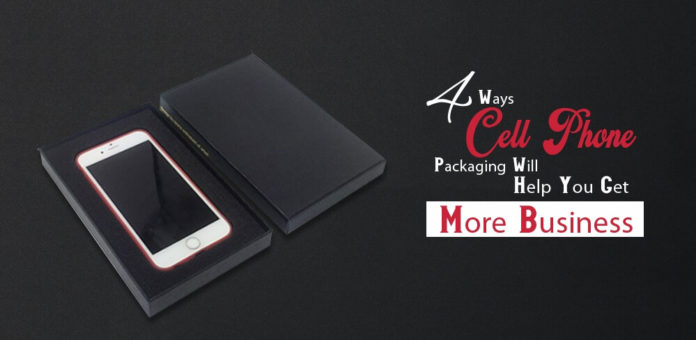 The mobile phone packaging box is providing these electronic devices a competitive edge. The quality of any product is determined by their respective packaging.
Important Role in Packaging for Cell Phone
The need for product differentiation is always required by every brand. In the case of a mobile phone packaging box, the companies are striving hard to make themselves different from similar companies. Different product markets are manufacturing the same product, but with low-quality materials for their manufacturing. These kinds of duplicate products harm the brand image. To save themselves from this trouble, cellular companies are now focusing upon their unique and unreplicable designs from others. By adopting these techniques, such companies got two benefits instantly. First, they got a competitive edge. Second, their brand recognition is easy and fast.
Introduction:
In this current era of advanced technology, the need for communication is highly increasing. To improve communication, the demand for cell phones is also increasing rapidly. Their continuous increase in demand has open doors for numerous companies to establish their place in the market. The increase in competition is causing a threat to the existing brands. These competing companies are rapidly producing their different and more innovated products to their maximum. The other major threat is that some companies replicate the original object. In this way, they decrease product quality and sell their items at a low cost. These duplicate items are damaging the existing brand image. And for a common mobile user, the identification of the original product from a similar one is quite difficult. The solution to this problem is to make customized product packaging. They instantly make them indifferent from such threats of manufacturing. Customized packaging has proved to increase business sales for businesses. The electronic industry is shifting towards customized packaging to improve their business. They are benefiting the cellular devices business in the following ways:
Promote Brand Image
People these days are more conscious of environmental protection. The increased global warming caused by non-biodegradable packaging makes an absolute rejection from their consumers for many businesses. Mobile manufacturers these days are getting more conscious of the manufacturing of mobile phone packaging box. Having a packaging that is eco-friendly immediately portrays the positive image of the brand. People tend to shift towards such companies that value the importance of a healthy atmosphere. In such a way, customer retention is guaranteed, as people rarely change their brand once their trust is maintained. These tempted designs also provide brand association. By using the color that is presented in their logo, promote their awareness throughout the market.
Promotes the Professional Side
Cell phones are known to be the invention of advanced technology. And to promote their professionalism, the creators include the latest innovation into their packagings as well. Advanced level packaging always reflects the professionalism of the company. Many online websites provide the facility of cell phone shipping boxes to facilitate the companies to have a product that is made upon quality standards. And with the help of the latest equipped technology, their manufacturing is done speedily. The quality of anything is firstly judged by its appearance, and graphic visuals always help in such cases. Electronic devices purchasers are keen on product specifications. The sustainable packet quality reflects the quality of the ultimate product. By the use of quality packaging, your quality of the product is already established without any further promotion.
Increase shelf-value
Strong packaging has proved to increase the shelf-life of any product. Cellular phones are already considered as a high luxury item, but their shelf value is less than any other product. With the advancement in technology, rapid change in existing products is quite at peak. Phone case packaging enhances the shelf-life in such a way that the buyer directly makes a guess of a product by looking at the packaging in which they are placed. As these devices are of delicate nature, strong packing will help them to bear external damages during their handling. In view of that, the product is sustaining into a shop, their chances of human encounter will increase. Consumers are shifted towards such products that are always available for purchasing.
Brand Identification
Cell phones are considered to be a luxury item. And consumers rarely switch their luxury brands. By making a unique phone case box, immediately provide their respective brand a sense of differentiation. Cell phones are high in demand among youngsters. You can use these customized packaging to attract this pool of consumers. Youth are always attracted to an object that is trendy in the market. These intellect devices that have the latest technological features in their specification, yet are physical resistance capabilities are still a problem. So they need a packet that is durable in nature. And by using a durable packaging, the need for product replacement is minimal, which ultimately makes it cost-effective.
The luxury boxes for packaging is evolving in the industry. Cell phones are the most common communication device that is used by everyone across the globe. They require packaging that could outstand all hurdles and ultimate provide an increase in sales benefit to its manufacturers. Many online websites are providing the facility of the cell phone box. These boxes are durable in nature and are of high quality. You can order them in bulk, by which you avail the excellent extra services like free shipping and delivery. They also provide services for die-cutting. Customization is the key to a successful business. These websites offer previously design templates, by which you can gather the information regarding current trends. This reduces the cost of research. You can directly gain information about anything at your arm's length.